Cleveland State University is facing backlash after its president defended the posting of hateful posters found on campus that urged LGBT students to kill themselves.
---
The posters found in the main campus building last week appeared to be distributed by a group called Fascist Solutions. The image of a man hanging by a rope was accompanied by statistics on LGBT suicides and the message: "Follow your fellow faggots."
According to a 2014 study, suicide attempts among trans men was 46% and for trans women, it was 42% compared to the 4.6% of the overall US population who reported a lifetime suicide attempt. Ten to 20% of lesbian, gay, and bisexual adults reported attempting suicide, the study said.
In response to the fliers, Cleveland State president Ronald Berkman said in a statement Monday that while the university respected all individuals, it would protect free speech and uphold the First Amendment "even with regard to controversial issues where opinion is divided."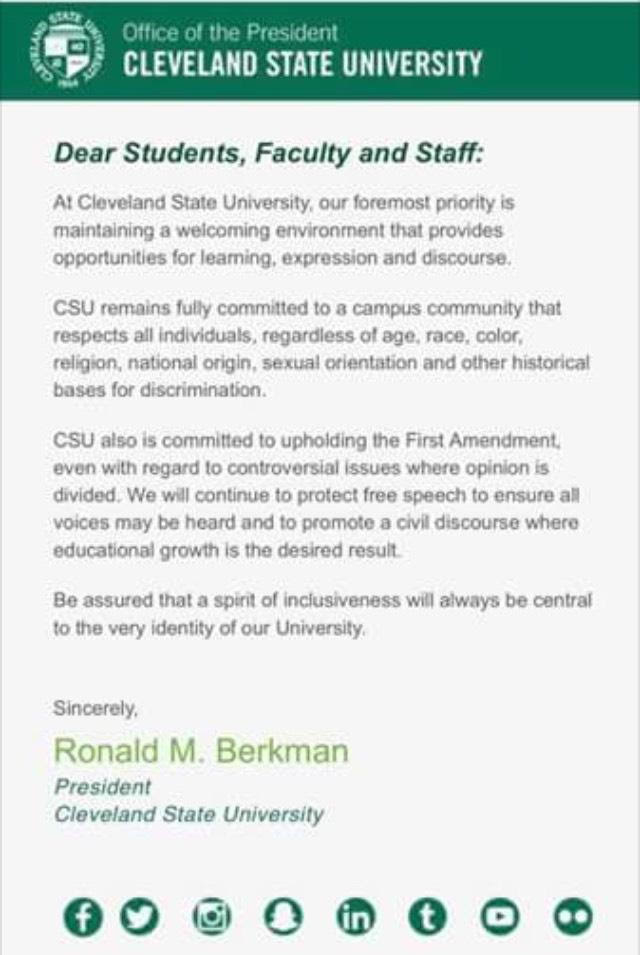 Berkman's response to the fliers sparked a backlash from many students and LGBT activists.
The anti-LGBT posters "did not conform with CSU policies and procedures regarding posting and were removed," William Dube, the university's spokesperson, told BuzzFeed News on Wednesday.
Dube told WOIO-TV that the posters were removed because they did not get prior approval to be added to the billboard.
He said that the Vice President of Student Affairs met with LGBT students on Friday to address their concerns regarding the posters.
Following the backlash, Berkman issued another statement on Tuesday, saying that he "failed to express my personal outrage" over the poster. However, he doubled down on protecting the posters as free speech.
"While I find the message of this poster reprehensible, the current legal framework regarding free speech makes it difficult to prevent these messages from being disseminated," Berkman said in a statement.
Demi Overley, a member of CSU's Queer Student Alliance, said that the president's hands were "tied by the laws of Ohio."
While many students were disappointed in Berkman's initial response, Overley said the focus should be on changing state laws on free speech, instead of criticizing the school's response.
"We are not really satisfied with his seeming support of the message of the fliers," Overley said. However, Overley acknowledged that it was "hard for [the school] to go above and beyond the law of the state."
Overley said that the Office of Institutional Equity at the school was investigating who was responsible for the fliers.
Berkman called on students to join him in an open meeting on Wednesday to discuss the incident.
Source: Buzzfeed